Overview 
Suggestions?
Do you have a suggested topic for this series? Are you interested in becoming a moderator?
Please let us know!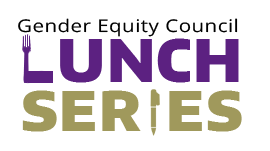 Led by guest moderators, the series will focus on topics related to gender equity and leadership development. This series is open to all members of all genders in the Department of Medicine.
Via zoom, please note the discussions will not be recorded. 
Upcoming series
May 25, 2023
Shared mental model for family support (results from the Gender Equity Council focus groups)
past lunch series
January 25, 2023
Topic: Mentoring & Trailblazing
The recipients of our inaugural Gender Equity Awards discussed their work in mentoring and blazing a trail for women and gender minorities.
Moderators: Dr. Stephanie Page, Dr. Michi Shinohara, Kelli Corning, 
November 8, 2022
Topic: Gender and the Electronic Health Record (EHR) workload
Special Guest Moderator: Eve Rittenberg, Harvard Medical School
Suggested reading: 
Eve Rittenberg, MD, is an assistant professor of medicine at Harvard Medical School and a primary care internist at the Fish Center for Women's Health at Brigham and Women's Hospital. Her interests include women's health, trauma-informed care, and health equity. She is a 2018–2021 Robert Wood Johnson Foundation Clinical Scholars fellow, working with an interdisciplinary team on trauma-informed care. She is the past medical director of primary care at the Fish Center and is actively engaged in medical student education in women's health.
September 23, 2022
Topic: Equality and reproductive rights
Moderators: Barbara Jung, professor and chair, Department of Medicine, and Amy Baernstein, associate professor (General Internal Medicine)
Suggested viewing:
The Janes. The Janes is a documentary 

about a secret abortion service network established by women in the seventies. The network used a series of code names and safe houses to provide women in need with illegal abortions during a time when abortions were banned by the state and church. (Note: Access to this documentary is provided by UW Libraries; you will need a UW Net ID to view the film. The documentary is also currently streaming on HBOMAX.)
May 25, 2022
Topic:

 Imposter Syndrome
Moderators: Roxanne Hicks, Internal Medicine Resident, and Yihan Yang, Clinical Instructor (General Internal Medicine)
Suggested reading:
September 30, 2021
Topic: Gender Equity in Faculty Promotions
Moderators: Rashmi Sharma, Assistant Professor (General Internal Medicine) and Leah Marcotte, Assistant Professor (General Internal Medicine)

Suggested reading:
October 25, 2021
Topic: Parental Leave
Moderators: Lia Barros, Teaching Associate (Pulmonary, Critical Care and Sleep Medicine) and Lauren Feld, Fellow (Gastroenterology)
Suggested reading: 
January 25, 2022
Topic

: Sexual Harassment
Moderators: Katherine DeNiro, Assistant Professor (Dermatology) and Elizabeth Krakow, Assistant Professor (Medical Oncology)
Suggested reading:
March 10, 2022
Topic: Meet & Greet with the Gender Equity Council
Moderators: Susan Merel, GEC co-chair, Kelsey Griffin, GEC co-chair and employment committee chair, Lia Barros, family support committee chair, Michelle Erickson, retention & career advancement committee chair, and Amy Fields, outreach & visibility committee chair
March 31, 2022
Topic:

Women's Unpaid Work
Moderators: Kelsey Griffin, Division Operations Manager (Gastroenterology), Anna Tappel, Resident (Dermatology) and Steph Timm, Education and Training Programs Manager (Dermatology)
Suggested reading: 
Instructions for moderators
Agree to, or select a topic to discuss (with corresponding presentation or article, book, video, etc.) that is related to gender equity or leadership development 

Introduce the topic and provide a brief overview of any reading material for those who may not have read it in advance

Have a list of discussion questions and be prepared to help keep the conversation flowing

Have fun!