meet our navigators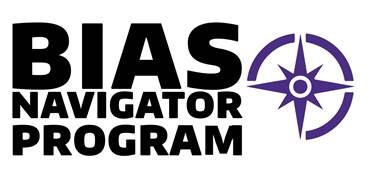 Navigators can provide a safe space to express concerns, help to navigate through the resources and options available and provide conflict resolution coaching.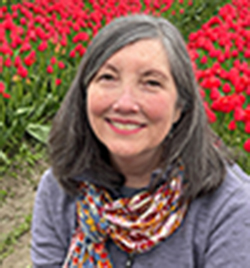 Lori Joubert, MA (she/her)
Program Coordinator
Division of Cardiology
Lori received her Master of Arts degree in Speech Communication from the University of Washington in Seattle where she studied organizational and interpersonal communication focusing on listening skill development in complex organizations. Since then she has managed, led, and coordinated groups where she has integrated listening as an essential human activity in a variety of roles.
Lori is a relationship-oriented communicator with a passion for serving others, connecting people with the resources they need to be successful, and has worked at UW Medicine for fifteen years.
On the weekends, she enjoys connecting with her family and community, dance classes, and nature walks.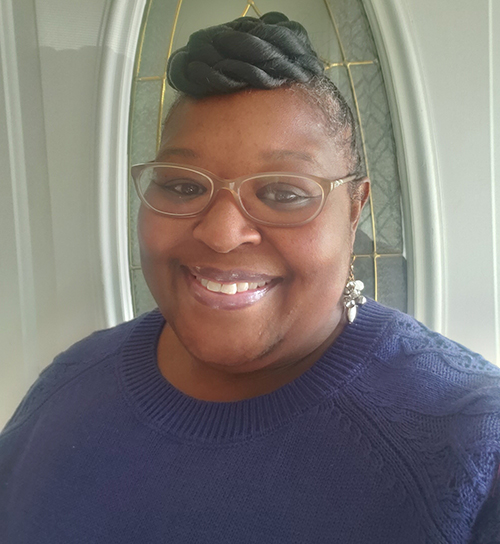 Shinetra Pryor (she/her)
Program Administrator
Geriatrics and Palliative Medicine Fellowship Programs
Shinetra is a Seattle native who has been a member of the Division of Gerontology and Geriatric Medicine for over 16 years.
She has served the division in various roles from patient services representative and patient services specialist for UW Post-Acute Care, and a program coordinator for the HMC Outpatient Palliative Care program, to her current position as the fellowship programs administrator. She is a member of the Department of Medicine Diversity Council and the DEI Strategic Planning Committee, supporting streamlined equitable and inclusive hiring practices to recruit diverse residents and fellows to UW.
She is also a leader in her community as co-manager for volunteer check-in for the Seattle King County Clinic, an annual, 4-day, free health clinic that brings a variety of free health, dental and vision services to WA residents who struggle to access or afford health care.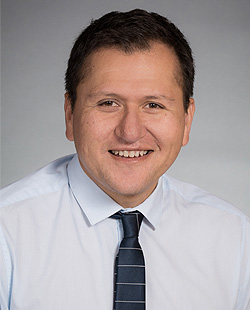 Daniel Cabrera, M.D. (he/him)
Clinical Associate Professor
Division of General Internal Medicine
Daniel Cabrera is a Hospitalist at Harborview Medical Center in the Division of General Internal Medicine. He serves as an Assistant Program Director for the Internal Medicine Residency Program and is also the DOM interim Associate Chair for EDI.  
Dr. Cabrera's work centers on medical education and issues of equity, diversity & inclusion. Ultimately, he aims to diversify the field of medicine so that patients from all backgrounds can receive high-quality care.
When not at work, Dr. Cabrera can be found spending time with his wife Laura, and their new son, Hugo.
What do Navigators do?
Their roles can be broken down into three categories:
Bias Intake and Listening
"What did I just experience? Why do I feel this way?"
Experiencing a bias incident can be jarring and cause people to wonder. Navigators can be there to just listen if you need someone to talk to and help process what occurred. We are here to affirm your experience and offer a safe space to express your concerns.
Resource Guide
We are here to show you your next step if you feel comfortable enough to move a process forward. The Department of Medicine, School of Medicine, and University at large can be a complex institution. A Navigator will be able to inform you of the options available to you after experiencing a bias incident and point you in the best direction, whether you choose to follow an informal or formal process.
Conflict Resolution Coaching
We understand that some individuals would prefer addressing the incidents they may have experienced themselves. Navigators are trained to help coach and help utilize the skills, language, and strategies to have tough conversations on your own. This practice is grounded in understanding context, power dynamics, and other factors that should be taken into account when trying to address a bias incident in your place of work.
What is a bias incident?
A bias incident involves any discriminatory act against an individual or a group based on their age, religion, disability (physical or mental), race, ethnicity, national origin, sex, gender, gender identity, sexual orientation, marital status, veteran status, socioeconomic status, or any other identity.
CONFIDENTIALITY
It is important to note that Navigators do not perform formal investigations. Our mission is to provide you with support and advocacy while determining follow-up activity where appropriate. Responses will vary based on the nature of the incident and can include additional communications with pertinent offices on campus. In most cases, the employee decides if they want to have a formal investigation initiated. However, there are certain instances (e.g., sexual misconduct, hate crimes) where we may be compelled by law to report.
ADDITIONAL RESOURCES
Well-Being & Safety
Reporting Tools and Complaint Resolution
Accessibility
Affinity Groups
Conflict Resolution